Quality Playgrounds Matter
Favorite Time's outdoor playgrounds are an extension of the classroom where children breathe fresh air and experience the beauty of nature. It is a time for children to develop their muscles, learn and practice skills, share and cooperate with other children, make scientific discoveries, and much more. Outdoor time, and the quality of that time, is critical to a child's development. Outdoor play is not simply a time for young children to release pent-up energy, but is an integral part of the daily schedule. A quality playground should be enticing, challenging, and safe.
Our wonderful playgrounds are designed with your child in mind. Each playground is separated into age appropriate areas specifically designed to challenge and engage children. We provide a specific playground space for Infants, Toddlers, Pre-K, and School-age students, which is unlike any center in the area. In addition to the four playgrounds, we offer a spectacular Water Park and Recreation Park/Sports Fitness field.
Favorite Time Academy is generously located on two acres of land. Our playground space is more than double the amount of space then some local centers in the area. While childcare centers continue to build smaller and smaller playgrounds, Favorite Time continues to expand! We expanded our playgrounds by creating a new Recreation Park complete with fencing, trees, and rich bermuda turf. This was part of a $20,000. plus investment to enlarge and enhance the beauty of our playgrounds. Favorite Time Academy thanks our wonderful families and supporters who generously contributed to the planting of a variety of trees, shrubs, and bushes. Students planted and personally staked more than 150 plants surrounding the entire playground. More than 20 pallets of sod were installed for the new park. In addition, a three-tier garden area was constructed complete with water access for student planting. We also didn't forget about our visiting pets and added a small kennel area with shade.
SAFE LOCATION FIRST!
Playgrounds away from the Road & Parking Lots!
Our property was truly designed with your child's safety in mind. It is unfortunate that childcare playgrounds are being built near roads, retail or office traffic, and parking lots. Our playgrounds are located at a safe distance from these daily hazards. Beware of daycare centers marketing a "safe room" for the slight chance of a tornado hitting the building, and ignoring the daily dangers of building a playground next to the road. Playgrounds next to the road are a reckless disregard for the safety and welfare of children.
YES, THERE IS GRASS!
Our playgrounds offer many different surfaces for the children to play on. We believe all of these surfaces are important for any quality playground. All areas are accessible to children and designed for play. There is a rich green bermuda turf, certified wood chipped areas for fall zones, pea gravel pit for play & digging, and cement areas for various games and riding equipment. Even with all the equipment, the playgrounds are large enough for plenty of running room. If the wood chips are wet, children have the turf and cement areas to play. Muddy or dirt areas are routinely repaired each season.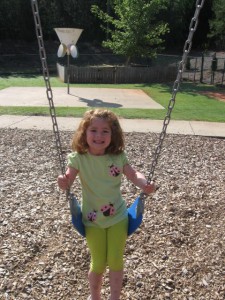 YES, THERE ARE SWINGS!
Each playground is large enough to offer swings with the required fall zones. Swings are an essential part of every child's development including large motor skills, upper and lower body coordination, confidence, self-reliance, speed & distance, spatial relationships, teamwork, and much more. Swings are the only piece of equipment that allows a child to be lifted off the ground and be suspended in air. Do you remember the first time you were pushed on the swings? What about the first time you learned to pump your legs? How high did you go? Many wonderful memories surround the swing set! We have a total of 10 swings between the age specific playgrounds.
Don't allow a center to rob your child of swing play and claim they are safer because they don't offer swings- it is absolute non-sense! With competent teachers and adequate supervision, swings are safe and the minimal risks are outweighed by the benefits.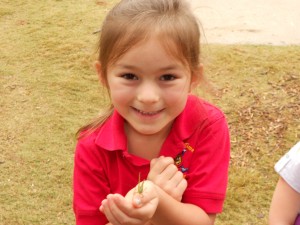 Nature and Beauty are Important!
Nature and beauty are important and we have spared no expense in extending the classroom learning environment into the playgrounds. Our playground designs are pleasing to the eye, fit into the surrounding natural landscaping, and encourage children to explore and discover the wonders of God's creation.
It is important that children learn early in life the importance of wildlife, taking care of plants and animals, and respecting God's creation. Flowers, herbs, and vegetables are planted in pots throughout each playground. Bird feeders hang along the fence line and child-made bagel bird feeders hang from the trees. The playground is home for many bugs and frogs. Deer are regular guests in the early morning and evening hours. It is not uncommon to hear how much the students, parents, visiting guests, applicants, etc. love the outdoor playgrounds!
A Home for Skittles
Skittles, Favorite Time's dwarf rabbit, enjoys the attention of the Pre-K students. Skittles has her own hutch on the Pre-K Playground which is accessible to the children. Sometimes Skittles gets out of her hutch and likes running around the playground. At times she is very good at playing hide and seek with her friends. Mr. Paul and Ms. Elizabeth care for Skittles' hutch, and ensures that she has food and water every day.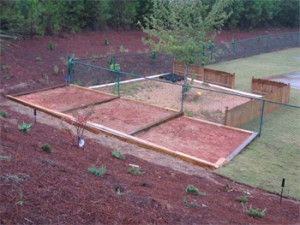 Gardening Areas!
What would a playground be without an area to grow plants, veggies, herbs, flowers, or just dig for worms? The gardening area has a watering faucet and hose for easy access.
Wet & Wild Water Sand Park
Our water park provides safe water play with no standing water. There is nothing like a fun water park to cool off the children during the hot summer months. The Wet & Wild Park is a favorite time for each child and a water-blast of FUN! The water jets have three different controls allowing a gentle mist for the toddlers and a blast of water for the Pre-K and School Age children.  Our huge sand beach provides year round tons of fun!
Recreation Park/Sports Field
In 2008, we constructed a new Recreation Park for all-purpose fun and adventure. This area is perfect for kickball, soccer, volley ball, and many team-building games. The park makes a wonderful place for a picnic, scavenger hunt, science expedition, and much more. Children love areas to run and play, and we provide the best environment to do so.
Favorite Time Academy thanks our wonderful families and supporters who generously contributed to the planting of a variety of trees, shrubs, and bushes. Students planted and personally staked more than 150 plants. More than 20 pallets of sod were installed for the new park to provide a beautiful turf for the children.
INFANT PLAYGROUND
Georgia childcare licensing requires that infants have daily time outside, yet childcare centers don't have a designated area that is appropriate for infants. Through Smart Start Georgia and the United Way, Favorite Time Academy received a grant for a wonderful playground just for infants. Our infant playground includes a rubber fall surface, a sun shade tent, and an infant activity climber. Rich landscaping and turf surround the playground, and it is fenced off from the older children. Favorite Time Academy has the only infant playground in the area.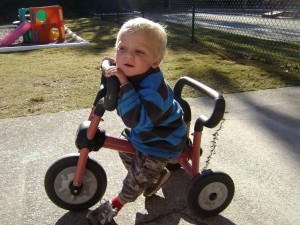 TODDLER PLAYGROUND
Our toddler playground includes climbers, swings, trikes with and without pedals, and shaded areas. The playground time is further enhanced by water and sand tables, activity tables, and storage shed filled with balls, science, books, games, and much more. Dramatic play is encouraged with toddler houses and pretend toys.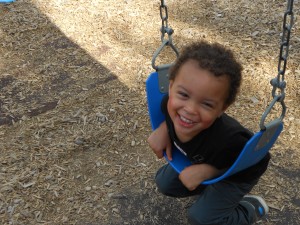 PRE-K PLAYGROUND
Our Pre-K Playground offers a huge climber with slides, swings, and a ball toss court. This cool playground includes a trike track and parking garage, a construction pea gravel pit, and a walk-in storage unit full of outdoor equipment. We offer seating areas for snack, or table toys and projects.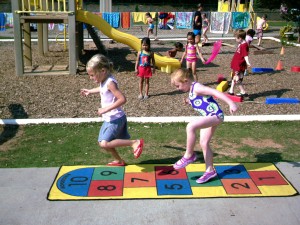 SCHOOL AGE PLAYGROUND
School Age children need their own space and equipment to congregate and play on. Our Tick Tock Club has a special age appropriate playground including swings, climbers, basketball court, and a shaded table and bench area for socializing, snacks, and games. Unlike other centers, school agers have their own space specifically designed for them!