Favorite Time Academy presently implements the "Creative Curriculum". Developmentally appropriated practice is the term that best describes the application of the curriculum. The Creative Curriculum derives from the educational theory and philosophy of Jean Piaget, on how children learn. Eric Erickson's stages of socio-emotional development as well as basic principles of child development.
 According to current research, young children learn best by doing. The Creative Curriculum is a plan for learning that focuses on using the environment as a tool for active involvement, providing opportunities for children to learn and explore. Primarily the curriculum provides children with resources to practice newly developing insights and skills. The application of the curriculum includes the active role of the teacher, the involvement of the family, and a respect for diversity, literacy, math, science, social studies, the arts, and the importance of technology. The curriculum focuses on each of these areas is ways that support and enhance children's academic success while maintaining a respect for the individual and unique ways in which children learn and grow.
 Favorite Time dedicates itself to creating a learning structure that serves as a preventive adaptation to children's needs, offering an enriched curriculum that identifies and addresses symptoms before they become behavioral or learning issues. The Center's goal is to continue to expand upon methods of adaptation that modify the curriculum in order to maximize the child's involvement and participation. The underlying notion is that through an increase in the student's participation as an active learner, and more opportunities to interact socially with peers, the enhancement of development will occur naturally.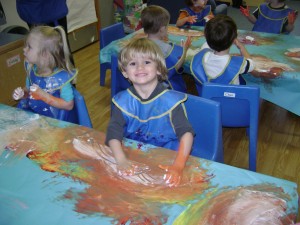 Modification of curriculum is an easy form of intervention that requires the teacher's active involvement in observation, planning and implementing changes that encourage more participation. Accomplishing this process involves modifying materials to allow the child to participate more independently in activities. Each step forward offers the success that provides the motivation and confidence necessary for growth.
The following is an outline of the Creative Curriculum:
The goal is to help children acquire social competence and skills needed to succeed in school life.
There are 50 goals and objectives that enhance the development of social-emotional skills, physical growth, cognitive development, language and literacy.
Classrooms set up include interest areas such as blocks, dramatic play, games, art, library, discovery, sand and water, music, movement, cooking, computers, and outdoor play.
There is a respect and celebration for individual differences, which include; gender, behavioral styles, special interests, learning styles, life experiences, culture, and special needs.
The focus is on fostering positive respectful interactions with peers, creating a partnership with families, and working together to support optimal development and learning.
The curriculum consists of regular observation, guidance and assessment of the children.
Assessment includes: observations, individual child profiles, child progress, planning reports and class summaries
To learn more about the Creative Curriculum approach, please view the following video:

Click here for more videos on early childhood education curriculum!