Creative Movement and Dance is offers Ballet, Tap, and Jazz classes at Favorite Time Academy. Dance classes are Mondays for ages 3-5. Below is a brief description of the program and for further information please see the front desk.
About Our Dance Instructor
Heather Pace
Owner
Heather began dancing in Alabama at the age of three, and received her early training in Ballet, Tap, and Jazz at Jane Kohl School of Dance and Huntsville Community Ballet School.  She also spent many years studying music and theater.  Upon graduating from Arab High School, Heather continued studying dance at Huntingdon College in Montgomery, Alabama, and graduated with a BA in Dance Choreography and Pedagogy in 2001, then completed state teaching certifications in dance in Alabama and Georgia in 2002.
Heather completed Dance Masters of America's Teachers' Training School in July 2000, and became a member of Dance Masters Chapter #33.  After teaching in public schools in Alabama, Heather moved to the Atlanta area in 2002, and continued teaching dance at numerous locations, then moved to Kennesaw in 2006, where she currently lives.  Heather is certified to teach Healthy-Steps, a movement therapy program for breast cancer patients.  Her territory includes Kennesaw, Acworth, Canton, and Woodstock.
Tap-Ballet, Ages 3 and up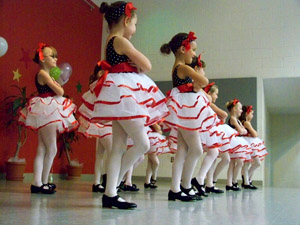 A prefect combination class. This class is divided with 20 minutes of tap and 25 minutes of ballet. Since ballet is the basis for all dance technique, the combination of both work hand in hand. The technical training is taught through ballet, which in turn helps teach the proper shifting of weight and patterns in movement for tap. Since children naturally respond to music and movement, all of the activities are executed to fun music.
HipHop, Grades Pre-K and up
Learn dance combinations used in "Hip-Hop" dance style. Develop the strength, flexibility, rhythm, leaps, turns, balance, and combinations in the center and safe body mechanics to dance confidently in a social atmosphere. This style of dance is known for fast, athletic movements and body isolations, unlike the fluid movement of ballet. "Hip-Hop" is extremely popular and can be seen in commercials, music videos and concerts. As with all Creative Movement and Dance programs all music and choreography is "age-appropriate" and tame.
Online Registration
www.creativemovementanddance.com