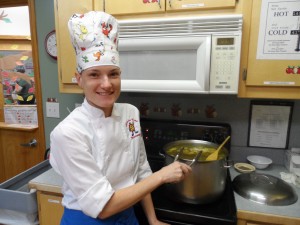 Meals and snacks are a critical part of the curriculum at Favorite Time Academy. Culinary Favorites℠ is our food & nutrition program designed to promote healthy eating habits for your child through education, menu management, and each dining experience. Nutrition is an essential part of a child's growth and development. Eating habits are formed very early in life. Once they are formed, they are very difficult to change. Our program helps children start out right by learning to eat a balanced diet of wholesome foods.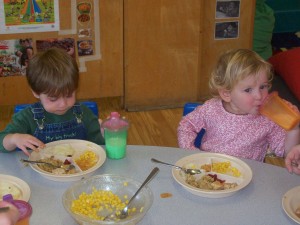 Menus are developed and tailored to the likes and dislikes of the children enrolled. We believe in offering and introducing a variety of foods including traditional favorites and comfort foods, as well as ethnic dishes. Six-week cycle menus are adjusted to seasonal changes in veggies and fruits. During the cool and winter seasons there will be more homemade soups, hardy casseroles, and pasta dishes. During the summer months the menus include specialty sandwiches and grilled items. Spontaneously we add theme and/or celebration menus that coincide with special events and curriculum.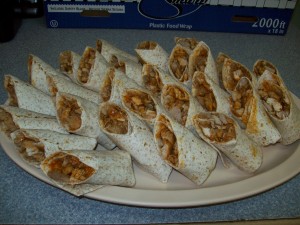 We believe our food service program is unparalleled to any childcare center in the area. This isn't your typical "daycare food" that is sometimes less than nutritious or desirable. Part of the struggle and limitations that most childcare centers have with their foodservice program includes limited equipment (ie: residential small ovens), minimal labor dollars, limited refrigeration/freezer space, and limited staff skills in the kitchen. This typically means that a majority of the foods in a childcare center will be processed or semi-processed convenience items. We strive to overcome these obstacles and continue to develop menu items that are "homemade", healthy, and delicious.
We are committed to providing healthy and tasty meals and snacks for your child based on the nutritional guidelines from the Food Guide Pyramid. Meals and snacks consist of Breakfast, Lunch, and PM Snack. In addition, we offer the toddler rooms an additional small snack between breakfast and lunch. We are concerned not only about the quality of the ingredients and how it is prepared but how it is presented and served to your child. This includes using durable plates and flatware and not paper, styrofoam, or plastic utensils.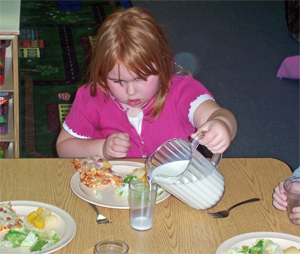 The entire snack and dining experience is part of each child's educational journey. Children learn many self help skills such as pouring their own milk, serving themselves, passing items to their peers, and clearing their plate from the table. Teachers are encouraged to dine with the children and engage in meaningful conversations. During our family style meal and snack times we encourage and foster:
good table manners
social exposure with other classmates and teachers
tasting and trying unfamiliar foods
team effort and responsibility during clean up time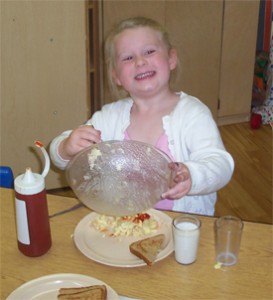 Breakfast is the most important meal of the day, since it "breaks" the 10 to 14 hour fast between the evening and afternoon meal. A nutritious breakfast provides approximately one-fourth of the recommended dietary allowances for key nutrients such as protein, vitamin A, vitamin B6, calcium, magnesium, iron, and zinc. Breakfast provides refueling for the brain and body, which is needed for improved concentration, for quick, accurate retrieval of information, and for muscle coordination. While cereal and juice are traditional breakfast foods, we also include hot breakfast items including egg omelets, breads, Texas French Toast, and many other favorites.
Children are at greater risk for dehydration than adults because they generate more heat relative to their body size and adjust more slowly to hot temperatures. About 1/3 of a child's daily fluid should come from milk, and 2/3 should come from water. We offer milk at breakfast and lunch, and water at other snack times and throughout the entire day. Water fountains are also built inside the classrooms for our pre-kindergarten, school age programs, and on the playgrounds.
Children are routinely exposed to all kinds of fruits, vegetables, comfort and ethnic foods.  Here children learn about fruits including cantaloupe, carambola (star fruit), kiwi, papaya, plums, and peaches. Did you know that cantaloupe is considered the most nutritious muskmelon? – 1 cup contains 74 times the vitamin A found in honeydew, almost as much vitamin C as an orange, and the same amount of fiber as in a piece of whole wheat bread.
.
Pre-K students learn about a pomegranate. The pomegranate, indigenous of Persia, is among the most ancient of fruits. It is available in the autumn months. It is usually eaten as a raw fruit, though its juice is often extracted and used in drinks. Pomegranate seeds are used to make grenadine syrup. Children love tearing the fruit open and eating the sweet seeds. This fruit is a favorite fun treat.
Birthdays are also a fun celebration of learning and sharing with friends. Our Tick Tock Club (before and after school program) students can decorate their own birthday cakes.
.
Snack is more fun when you get to make it yourself!!! We are developing new activities with our before and after school age group, The Tick Tock Club, with many new snacks.   This snack menu includes pizza, chili, grilled items, soups, and much more!
Exercise is another part of our food and nutrition program. The average child spends 24 hours a week watching TV. That's almost 3.5 hours a day. As part of our curriculum we give children the time and opportunity to engage in the physical activity they need. The American Heart Association recommends that children participate in at least 30 minutes of enjoyable, moderate-intensity activities at least three or four days per week. We exceed these recommendations and provide encouragement and safe place for children to run, play, and have fun.
Tidbits on nutrition, recipe ideas, and creative menus can be found on the parent bulletin board. We believe that you and your child will be extremely happy with our menu and dining experience.